In a previous article, I discuss the cost of marketing timing. After reading OppenheimeFunds' 2018 Compelling Wealth Management Conversations brochure, I wanted to expand upon my thoughts about trying to time the market.
In their chart book, they include the following illustration. They conclude that the best stock market days come near the worst days.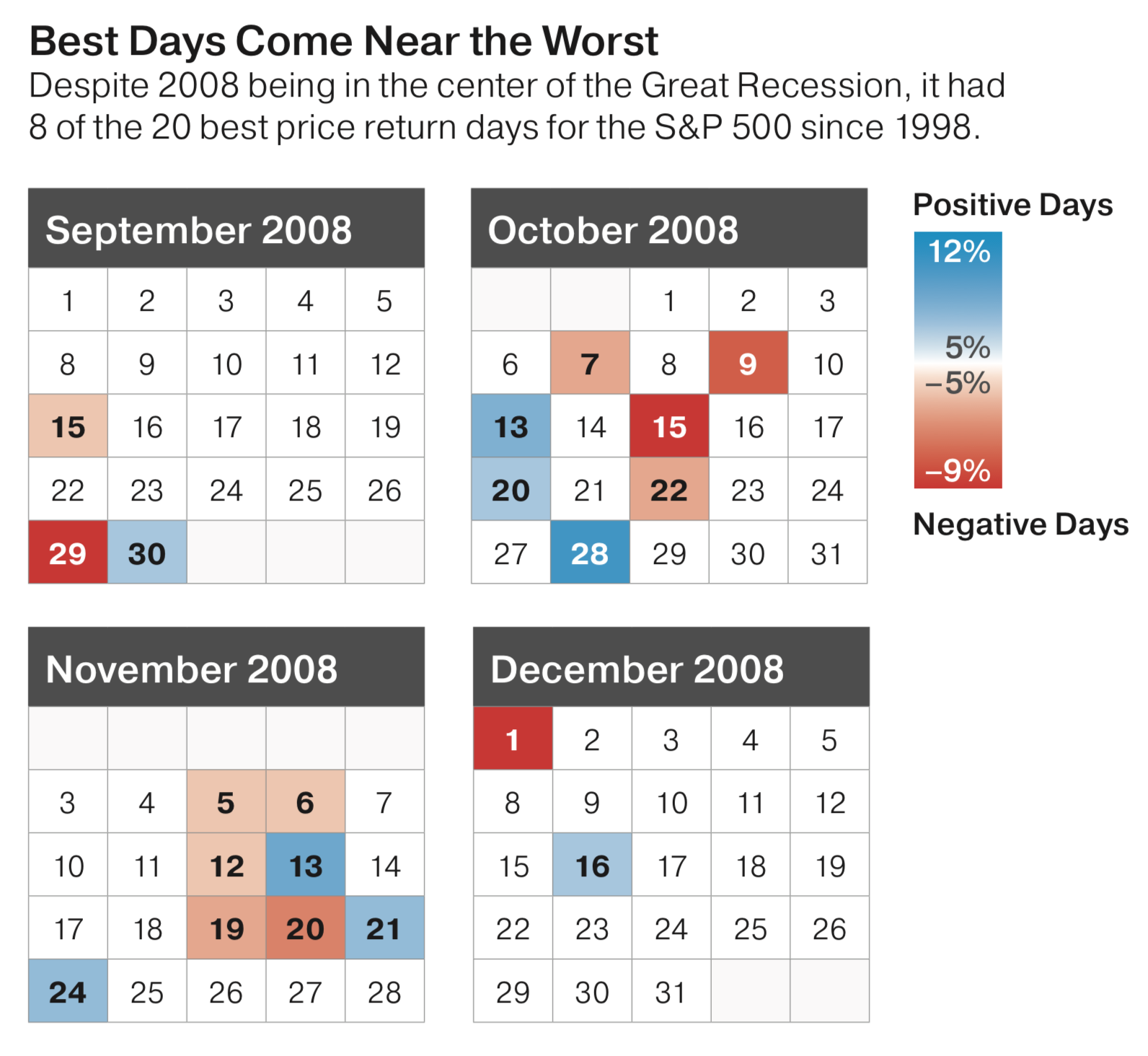 For better context, the S&P 500 was down -38% in 2008. This was the worst performing year during the Great Recession. Despite that, 2008 included 8 of the 20 best price return days for the S&P 500 since 1998.
My Thoughts
Thanks to the internet, we live in a world where information spreads like wildfire. In my opinion, the internet increases market volatility. As remote parts of the world become more connected, market fluctuations may become more prevalent. Hence, the importance of long-term investing cannot be overstated.
In my opinion, you should ignore markets, but not ignore investing. This means you should not read too much into day-to-day market fluctuations. Instead, you should focus on how your investments help you toward your financial goals.
Market corrections are inevitable. However, I believe a great financial advisor can help you weather the storm by preventing you from making emotionally driven financial decisions that can negatively impact your financial plan.
Disclosure
The information in this post is provided for discussion purposes only and should not be misconstrued as investment or tax advice. Under no circumstances does this information represent a recommendation to buy or sell securities.
The S&P 500 Index is an unmanaged group of securities considered to be representative of the stock market in general. Indices are unmanaged and cannot be invested in directly. 
OppenheimerFunds' Image Source: Morningstar Direct, as of 12/31/17. For illustrative purposes only and is not intended as investment advice. The charts are hypothetical examples which are shown for illustrative purposes only and do not predict or depict the performance of any investment.